Design and send beautiful and professional company-branded emails to large audiences using Gmail email marketing tools.
Get Started for FREE
(Available with Business Standard and Enterprise editions)
How to Send Mass Email Marketing from Gmail
step 1

Design Your Email

Select from a set of email marketing templates for Gmail and customize the template with your logo, brand colors, images, text, buttons, links, and more.

step 2

Choose Your Audience

Turn on multi-send mode and add up to 1,500 recipients in the "To" field. Each contact will receive a separate email and won't know who else you emailed.

step 3

Stay Organized

Add 1 recipient in the "Cc" or "Bcc" field to get a copy of every outgoing email. Replies will show in separate threads, making it easier to manage conversations.
Personalize Your Emails
You can personalize multi-send emails with the recipient's first name, last name, full name, and email address. Google will fill in the values saved in your Google Contacts, and you can enter a default value if a recipient has no information saved. For example, "Hi @firstname" can be "Hi friend."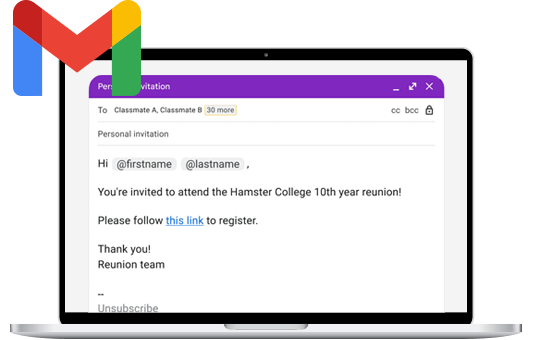 See a Preview Before You Hit Send
Send a test email to yourself before you send an email to your entire audience. If your draft has personalized tags, the preview email will show you the values for the first recipient on your list.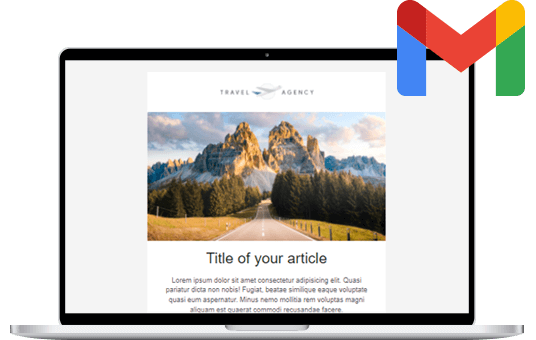 Give Your Recipients a Way to Opt-Out
By default, multi-send emails include an unsubscribe link unique to each recipient—anyone who unsubscribes will be automatically excluded from your future multi-send emails.
You never want someone to unsubscribe from your emails, but it is a requirement in many countries and regions when sending commercial emails.
Try Email Marketing for Small Business for Free
Gmail's small business email marketing tools are available with Google Workspace Business Standard and Enterprise editions. We've partnered with Google to let you try Google Workspace free for one month.
Get Started for FREE
More Ways to Use Google Apps for Business
Shared Drives

File Sharing for Teams

Learn More

Appointment Scheduling

Client-Friendly Booking System

Learn More

Gmail Aliases & Groups

Group Email Addresses

Learn More