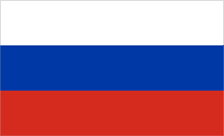 What is a
.ru

domain?

When searching online, Russian internet users expect to see website addresses with .RU domain names. Whether you are a Russian local, a small business owner, a secretary, an economist, or just someone who appreciates vodka and Tolstoy, a .RU domain name is for you! With a .RU domain name you will rank higher in local search results and in the hearts of the locals.

Show your connection to the Russian culture and commitment to providing the best internet experience in Russia with .RU domain. A .RU domain name is short, professional and memorable helping your website stand out in a sea of content online. Russia is the largest country in the world, so it comes to no surprise that the giant has an impressive GDP rank of 7th in the world. The cold exterior doesn't prevent Russia from warming up to reformation and embracing a centrally planned economy and market-based system.

Protecting your brand is as important as growing it. Registering your brand name in Russia is one of the best preventative measures you can take to secure your trademark and combat copyright infringement. Your domain name is your brand and your brand is you! Register your perfect .RU domain name before someone else does.