You're only as strong as your weakest link.
The Domain Name System (DNS) converts IP addresses into something we can remember (like website addresses). DNS helps us find websites, power web browsers, email, chat, applications, and all other web properties connected to the Internet. It is often referred to as the "weak link" because it is so interconnected and is so often overlooked or underpowered.
Domain registrars typically offer free DNS with domain name registrations. The problem with free DNS is that it doesn't provide any guarantees and cannot protect against large and sophisticated attacks. This can put your website at risk of being taken down, leading to downtime and lost revenue.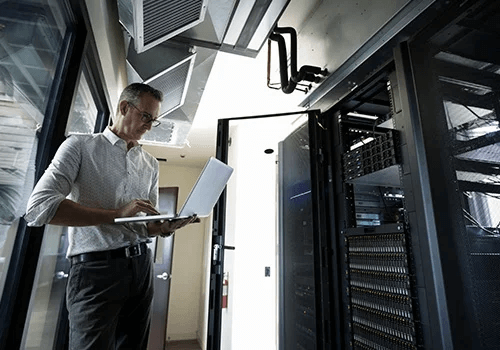 101domain has partnered with Cloudflare to provide our clients with an enterprise-grade DNS solution that offers total protection. Our dedicated engineering team will migrate your DNS for you to ensure a smooth transition.
Why should your organization use 101domain's enterprise DNS solution powered by ?
Superior Performance.
Cloudflare's DNS offers the fastest response time in the world, which helps to keep users on your site. Faster loading times mean reduced bounce rates, which positively affects your search engine ranking and visibility. Cloudflare's DNS also helps to make your website load faster than requests made directly to it, assisting your SEO efforts.
Advanced Security.
Cloudflare's built-in DDoS protection and one-click DNSSEC relieve your organization from the costs and stress of cyberattacks that aim to take down your website. Cloudflare functions like a water filtration system, blocking potential attacks (like DDoS and man-in-the-middle) and filtering out bad guys (like bots) to ensure your web infrastructure is safeguarded from DNS attacks.
Unparalleled Availability.
Cloudflare guarantees 100% uptime with its content delivery network (CDN). Copies of your website are cached across their global network in 285+ cities, and if one nameserver fails, another is readily available. This is essential for website success as regular website availability directly impacts the customer experience.
Insights & Analytics.
Cloudflare's Dashboard provides real-time analytics into your DNS traffic, security, and performance. Generate reports to see how the DNS traffic to your website is performing, filtered by response codes, record types, geography, domains, and more. Our team can help you drill into the data with actionable adjustments to protect and accelerate your web properties.
Call an expert now to learn more. +1.888.982.7940