What is BIMI and why is it important?
BIMI (Brand Indicators for Message Identification) is a protocol that allows organizations with a secure DMARC policy to display their trademark logo next to their email messages.
As email continues to be the most popular communication method, organizations have to compete to stand out in crowded inboxes. A strong DMARC policy is required for BIMI eligibility, which improves the effectiveness of your email marketing campaigns by giving your perfectly crafted emails the best possibility of getting delivered and opened.
Enhance customer confidence & trust

BIMI serves as a sign to your customers that emails sent from your brand are actually from your organization and can be trusted.

Increase email engagement & open rates

BIMI improves email performance by adopting the highest standard of email security and bringing branding into the inbox.

Be at the forefront of an emerging standard

Not many brands are DMARC compliant, required for BIMI, which gives you the opportunity to beat your competitors to the punch.
Which mailbox providers support BIMI?
Most major email providers, including Google and Microsoft, have enthusiastically embraced BIMI, and more are planning to implement BIMI in the near future. Google expanded on the feature by displaying a blue checkmark icon for senders that have adopted BIMI.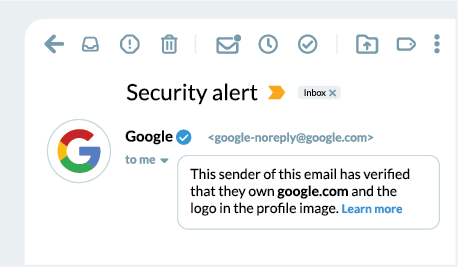 How To Get A Blue Checkmark Next To Your Company Emails
Google recently announced that the blue checkmark is coming to Gmail and will display next to senders that use strong email authentication practices to combat phishing and impersonation attacks. Learn more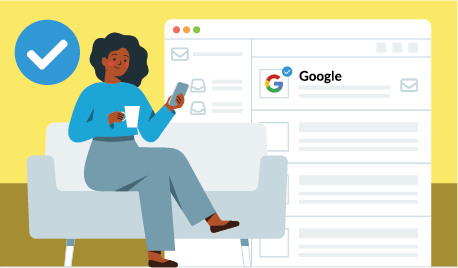 Fill out this form to find out if you are eligible for BIMI.
We'll help you understand your current email security posture and everything you need to apply for BIMI.
FAQs for BIMI Implementation
What is BIMI?
BIMI stands for Brand Indicators for Message Identification, which is a new email standard. It allows brand logos and verification signals to appear in supported mailbox providers.
What will my customers see with BIMI?
Customers will see your trademarked logo and a verified sender checkmark next to your email messages in supporting mailbox providers. For example, Google and Microsoft display a blue checkmark for qualifying emails.
What are the marketing benefits of BIMI?
BIMI provides branding in the mailbox, which includes logo impressions and verified sender checkmarks. This has been proven to increase email engagement, opens, clicks and enhance customer trust.
What does BIMI help with phishing abuse?
To display the brand's logo, the email must pass DMARC authentication checks, ensuring that the domain is not being impersonated.
What do I need to be eligible for BIMI?
To be eligible for BIMI, you need an email-sending domain with a DMARC policy of at least quarantine or reject. Additionally, you need to have a trademarked logo.
How does BIMI work?
A supporting mailbox provider checks the sending domain's DMARC policy and verifies that it is included in the BIMI validation. If both checks pass, the provider will display the logo and the verified sender checkmark.
Can I have multiple domains and logos with BIMI?
Currently, BIMI supports only a single logo, which must be a trademark. It can be used for multiple domains and subdomains.