Consolidate your domain portfolio and technology services with 101domain.
IT, marketing, and finance teams have a lot to manage: login credentials, domain renewals, DNS settings, etc. Spread that across multiple third-party platforms, and the work quickly multiplies. Streamline your processes, reduce oversight risk, and save time and money by consolidating your domains and services at 101domain. Our account executive team is standing by to walk you through this process or even do it for you.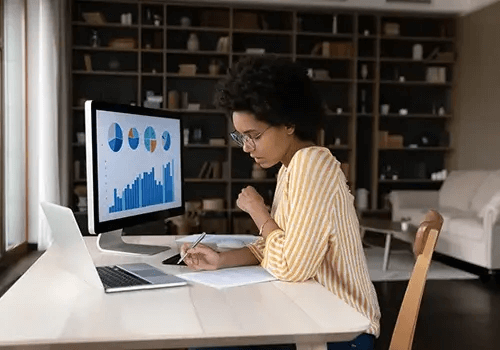 Why should you make 101domain your exclusive provider?
Streamlined Management.
Anything your current domain name and web technology providers can do, we can do under one roof with the value and level of support you require. We offer the largest selection of top-level domains so you can manage all of your domain portfolio and connected services in one secure platform. In addition to our comprehensive domain portfolio, we have flexible brand protection services for businesses of all sizes.
Transparent Pricing & No Contracts.
Save money when you transfer domains to 101domain. While most providers make you jump through hoops to find their pricing, sign multi-year contracts, and charge you for any and everything, we like to keep things simple. You can find registration, renewal, and transfer-in pricing for all of the domains we offer on our Price List, and you can find our agreements on our website at any time.
Enterprise-Level Security.
Security is a priority at 101domain. We offer a host of account security features, including private registration, registry locks, IP lock and logging, multi-user account access, domain update locks, and two-factor authentication (2FA). We can also help you strengthen your own web infrastructure with Cloudflare DNS & DNSSEC, email compliance, and a range of SSL & TLS offerings.
Dedicated & Flexible Corporate Domain Management.
You don't need to spend a certain amount with us or have a large portfolio. We love working with clients of all sizes to make their lives as easy as possible. 101domain can do it all for you or work side by side with you in whatever capacity you desire. With years of training and industry experience, our account executives can help you respond to trends and sensitive situations and maximize the value of your domain portfolio with fast implementation.
White Glove Assisted Transfer Program.
Are you interested in transferring your domains and services to 101domain but don't have the time or resources to make it happen? 101domain account executives and engineers are here to serve you. We provide project management, migration planning, and a dedicated engineering team to see your transfer through from start to finish.
Call an expert now to learn more. +1.888.982.7940