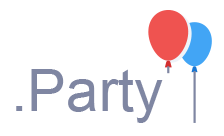 What does it mean to be registered in the WhoIs?
A searchable database maintained by registrars that contain information about networks, networking organizations, domain names, and the contacts associated with them for the .party and ISO 3166 country code top-level domains. Also, the protocol, or set of rules, that describes the application used to access the database.
Each registrar implements the Whois protocol and maintains a separate and distinct Whois database for its respective .party domain name registrations.
Sponsoring Organization
Blue Sky Registry Limited
2nd Floor, Leisure Island Business Centre, Ocean Village, Gibraltar, GX11 1AA
Gibraltar
Administrative Contact
Edgar Charles Andrew Lavarello
Pricewaterhousecoopers Ltd.
327 Main Street
GX11 1AA
Gibraltar
Email:
[email protected]
Voice: +350 200 73520
Technical Contact
Director
Neustar, Inc.
21575 Ridgetop Circle
Sterling, VA 20166
United States
Email:
[email protected]
Voice: +1 844-677-2878
Fax: +1 571-434-5401
Sub Domains
Name Servers
Host Name
IP Address(es)
ns5.dns.nic.party
156.154.173.24
2610:a1:1075:0:0:0:1:18

ns2.dns.nic.party
156.154.170.24
2610:a1:1072:0:0:0:1:18

ns6.dns.nic.party
156.154.174.24
2610:a1:1076:0:0:0:1:18

ns3.dns.nic.party
156.154.171.24
2610:a1:1073:0:0:0:1:18

ns1.dns.nic.party
156.154.169.24
2610:a1:1071:0:0:0:1:18

ns4.dns.nic.party
156.154.172.24
2610:a1:1074:0:0:0:1:18

Domain Information
IANA is responsible for the operation and maintenance of a number of key aspects of the DNS, including the root zone, and the .intand .arpa domains.
The DNS Root Zone IANA is the global coordinator of the DNS root. The root is the upper-most part of the DNS hierarchy, and involves delegating administrative responsibility of top-level domains, which are the last segment of a domain name, such as .party. Part of this task includes evaluating requests to change the operators of country code domains, as well as day-to-day maintenance of the details of the existing operators.