.MX Sunrise Official Launch Tomorrow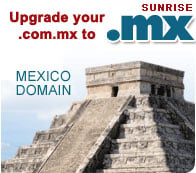 After a long wait for many, the .MX Sunrise period officially begins tomorrow, May 1st.  If you didn't take advantage of 101domain's pre-registration period, and want to get the .mx version of your existing .com.mx domain name, then now is the time to do it.
As a review for those who didn't catch our newsletter or various announcements about the reopening of the .MX TLD, the sunrise period allows current holders of .com.mx domains ONLY to register the equivalent .MX domains before the TLD is made publically available.  This restriction will be lifted when the landrush period begins on September 1, 2009.
101domain received hundreds of pre-registrations that are ready to be pushed the minute the sunrise period begins, but if you didn't take advantage of that special offer, you can still try and get your .mx domain name during this sunrise period.  Whatever you do, don't wait for the public launch to try and upgrade your .MX SLDs, because you will miss out and they will be scooped up quickly.
We are continuing our pre-registration pricing special of $35 to those looking to upgrade, so take advantage and contact us today to get it taken care of – register your .mx domain now!