Are you interesed in learning what your business needs to obtain the highest levels of security standards with .bank?
With the right services and tools, it's easier than you might think. We offer personal consultation to devise a plan designed to fit into your business roadmap.
Implement the technology services you need

Our engineers will upgrade your client-facing environment to meet the encryption levels and strict security standards required for a .bank website. With access to a comprehensive security suite, you can employ services for your specific needs.

Create a plan and timeline

We will determine the best way for you to begin benefiting from your secure .bank domain quickly, easily, and affordably with a set budget that works for you.

Conduct an information scope

In our professional assessment, we will deterime the size of your infrastructure, customer base, and goals to offer a recommendation for optimal us of your .bank domain.
Our .bank Implementation Works for You
The purpose of migrating banks to the .bank namespace is to foster a secure online banking environment and increase customer trust within the banking industry as a whole. We are all online consumers and understand the magnitude of faith we place in the brands we choose to do business with, especially financial institutions.
Whether you have a team of engineers or require our assistance in the migration, we will create a custom plan with the tools and personal support you need to secure your website, hosting, and email infrastructure.
Add the Services You Need
All .bank websites uphold strict security standards and are required to have a DNS service that implements SSL, web standards, and vanity nameservers. We offer one of the best DNS interfaces in the world. Cloudflare will help you achieve all of this and more.
In addition to secure DNS with Cloudflare, we also provide an email monitoring and reporting platform. DMARC is an add-on service and best practice for enterprise businesses to prevent phishing.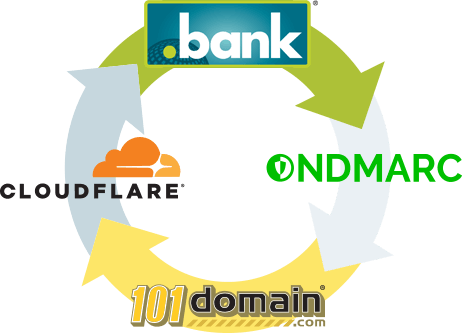 We'll Get Everything in Working Order
A .bank implementation gives you access to the support and expertise of our hosting engineers. You can see us as an extension of your business and another memeber of our team.
Our project engineers will implement your plan in phases while communicating with you throughout the process. That way we can take your business further, and and give you confidence in moving your infrastructure to .bank.
Let's get started with your .bank implementation.
Leave your information below, and an account manager will be in touch to provide you with more details shortly.